A week in the life of a BeFlexi Sales Associate
In the past week BeFlexi has been to 5 different cities in 2 different countries, meeting with business partners, clients and prospects. We also attended a safety drill in Cartagena organized by our global partner, SGS, in cooperation with the Spanish public authorities, the International Committee of the Red Cross and military personal.
Nelson Guerreiro, Sales Executive at BeFlexi tells us about it.
Day one: Amsterdam, The Netherlands
Me and our Managing Director, Bruno Silva, arrive in Amsterdam for the 8th World Bulk Wine Exhibition. The exhibition is a gathering of almost 6,000 global visitors and features wineries in the bulk wine market, bulk wine buyers, brokers, dealers, business agents and so on. It's a great place to be begin our mini-tour, as we can make crucial contacts with producers from Spain and Portugal to explore later.
BeFlexi is sponsoring The Vine Science Awards, which are a celebration of all relevant research related to obtaining and applying wine and vine by-products, as well as ways of converting waste. They gave us great brand exposure.
Day two: Barcelona, Spain
We fly straight from Amsterdam to Barcelona to meet with several freight forwarding companies. The meetings give us an opportunity to not only discuss key benefits of the flexitank technology, but also the global partnership between BeFlexi and SGS worldwide. This partnership makes us the safest and most efficient flexitank operator – a big assurance to freight forwarders who have their own reputation to uphold.
Day three: Valencia, Spain
Valencia is an important port in Spain and is one of eleven locations where we hold flexitank stock.
We have a positive meeting with a freight forwarder specializing in flexitanks. Among other things, we discuss that, although the market is price-sensitive, BeFlexi has competitive leverage: SGS. Moreover, BeFlexi is a member of COA's Technical Working Group – the technical team designed to implement best practice for flexitank technology. That brings us more credibility in a very competitive market.
As a result, we are already sending quotations.
Brief stop: Alicante, Spain
We make a short stop in Alicante for a well-deserved rest. We have a chance to recap on the past three days and make a plan of action.
Day four: Cartagena, Spain
We receive a friendly reception from SGS Cartagena. Alongside them we attend a meeting with an important lubricant manufacturer, which turns into a good demonstration of the partnership between our two companies when we are focused on a common goal.
Day five: Cartagena, Spain
This is the big day: a safety drill featuring our flexitanks.
The event involves almost 1,000 people from the Coastguard, fire department, police, Port authorities, the International Committee of the Red Cross, Army, Navy and SGS – the chief organizers.
Three emergency scenarios are played out: an on-board chemical incident, a fire drill and a chemical leakage on port.
The support we provided to the municipality of Madeira Island during their wildfires (read the article here) brought the attention of SGS to the use of our flexitanks in public emergency situations.
During the event, our flexitanks are used to store residual water, as well as drinkable water. The feedback from SGS is very positive and they are now planning to showcase our flexitanks to Navy officials for possible additional applications.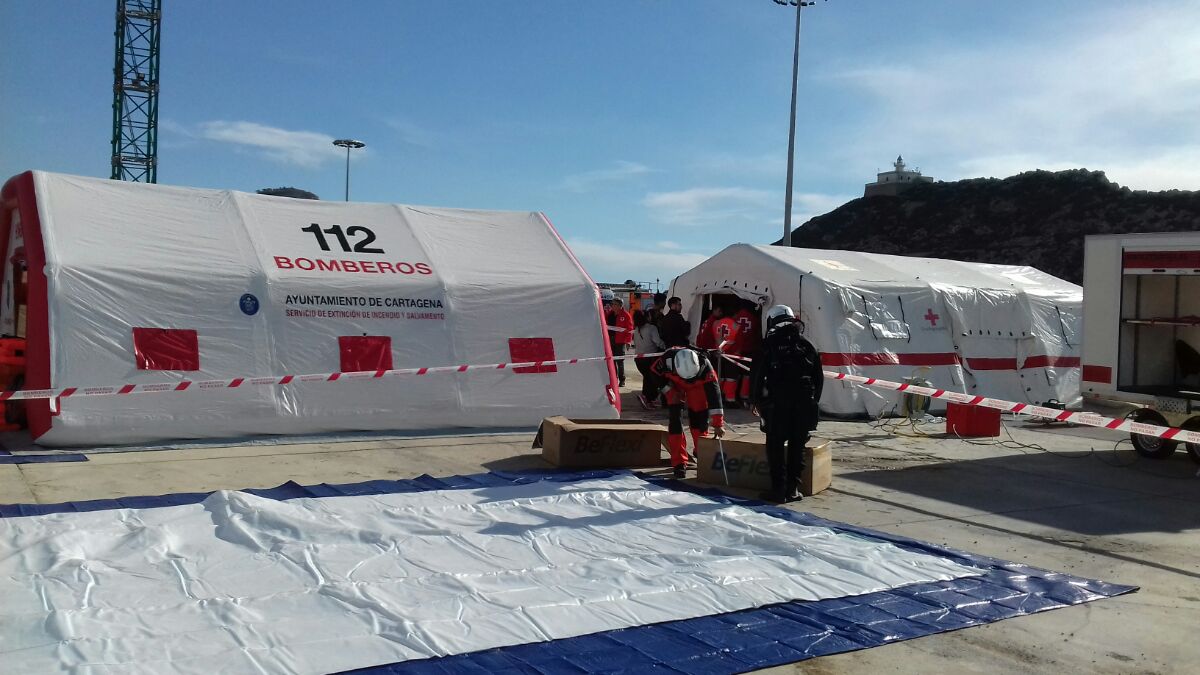 Overall, though exhausted after a very busy week, I'm motivated by the opportunities created to not only win new clients, but also to showcase the positive humanitarian applications of the flexitank technology.
You can connect with Nelson on LinkedIn.