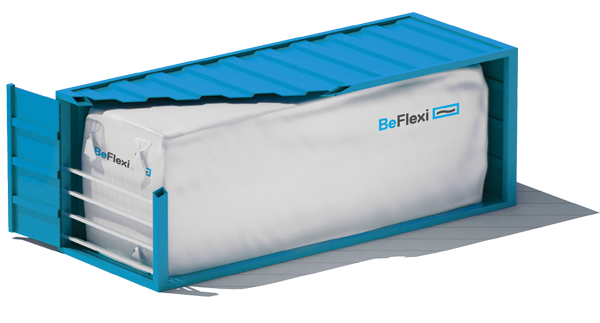 BeFlexi Dry Bulk Liner is the most cost-effective solution for dry cargo transportation and temporary storage. The liner forms a protective barrier between the product and the container interior, minimizes the risks of product quality loss and prevents cargo contamination.
• single use, installed in a standard 20' container (TEU) 
• the highest loading capacity: up to 33 cubic meters and 20 MT of dry bulk cargo
• options: velcro flap/zipper, hermetic/breathing, numbers of layers, loading/discharge methods
• technical solutions provided for hard-to-flow products' loading/discharge
• more than 300 modifications available to meet specific needs of various cargos
The dry bulk liner forms a dry and contamination free barrier between the product and the container interior ensuring a safe and comfortable environment for transportation and storage of a wide range of  food-grade, pharmaceutical, industrial, chemical and mineral products.
Food grade products: cereals, grains, beans, seeds, peas, nuts, small fractions (sugar, starch, flour, etc.).
Non-food grade products: animal feeds, aluminium powder, colorants, construction materials, detergents, fertilizers, pellets, polymers, solid acids and more.
ADVANTAGES OVER TRADITIONAL PACKAGING
• Immediate savings in packaging costs
• Higher payload percentages
• Minimized packaging waste (20' container liner   weighs only 10 kg)
• Easy installation (less than 30 minutes)
• Protection of product & containers
• Superior humidity control
• Fully customized
Certified Quality
US FDA regulations,
EC – European Certification,
ISO 9001:2008,
ISO: 2200
Standard liners are easy to install, fill and discharge and are applicable for a wide range of flowable commodities. Additional equipment is required for solids that are considered by their high angle of repose as hard-to-flow products. BeFlexi offers a varieties of hanging, retention, discharge/loading  options including, pneumatic machine, blowing in system, conveyor belt, and gravity loading.
TECHNICAL ASSISTANCE AND HANDS-ON-TRAINING
We are always ready to help our customers to gain insight into flexitank/liner technology. We provide a technical assessment of your individual needs to select the appropriate products and technologies for a particular cargo. Your staff can receive training on how to install, upload and discharge flexitanks/liners to guarantee a greater load capacity and ensure that the products arrive safely to their destination.
We are ready to share our knowledge and expertise and answer all your questions.
When you consider flexitank/liner technology for your next delivery, BeFlexi is your reliable partner.