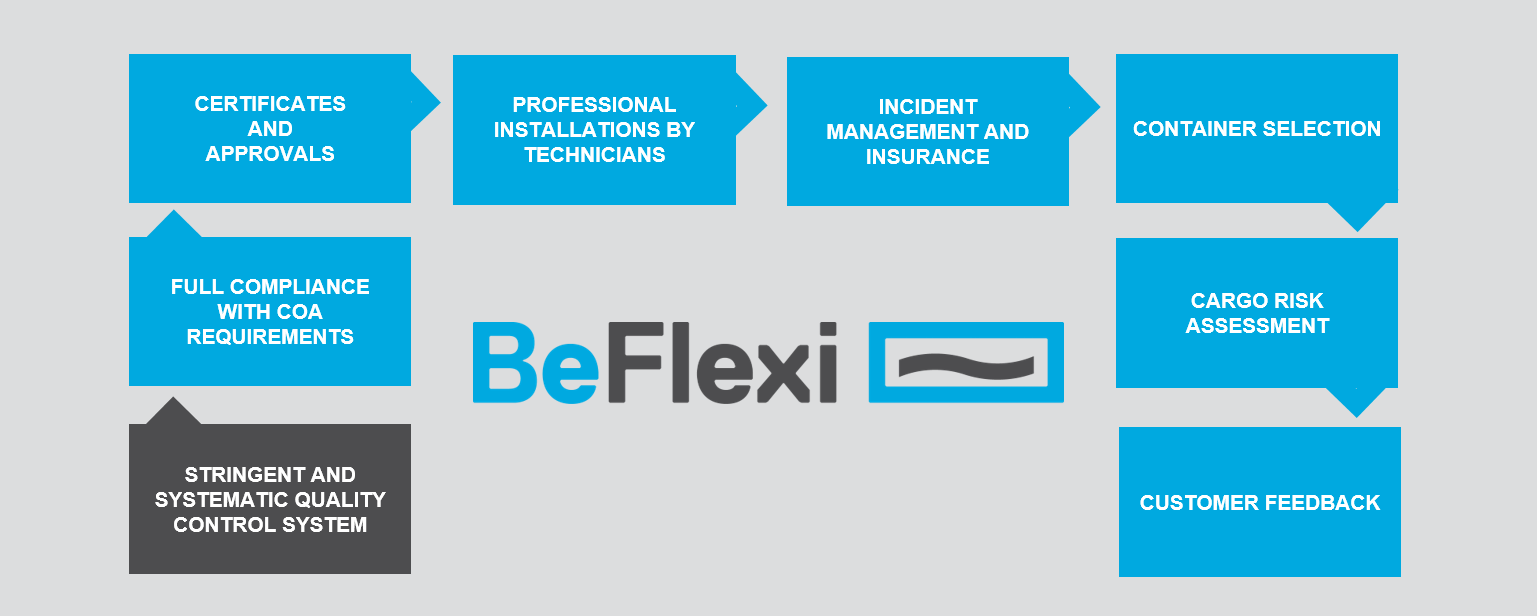 QUALITY AND SAFETY 
Flexitank is safe, time-proven and cost-effective technology if used and operated correctly. Our quality control and safety procedures are a substantial competitive advantage for BeFlexi. In many areas, we do not just comply but exceed the industry' standard guidelines and requirements.
The main success factors for our Quality and Safety procedures are:
---
Products and R&D
Our R&D center delivers specifications for the highest quality products and materials and takes control over production/manufacturing process.
Custom designs are available upon request.
Full Products Certification
US FDA regulations
EC – European Certification
HACCP – Hazard Analysis and Critical Control Points
COA Standard Rail Impact Test
Kosher Certification, Halal Certification
Major shipping lines approvals
ISO 22000 accredited manufacturing facilities

COA: Membership and Compliance
Full compliance with COA Code of Practice for flexitanks,
PAS 1008:2014 Specification for the performance and testing of a single-use flexitank
COA Members' Code of Practice Quality Management List (list of companies that demonstrate that they achieve the required standard)
Availability and Transparency of Safety and Quality Procedures Documentation
Our certificates, approvals, and safety summaries are accessible on our homepage.
Additional information can be requested by contacting as at: info@beflexi.com
We transparently communicate our Quality and Safety procedures to our customers and logistic partners in a suitable format and in this way increase confidence that products are handled safely throughout their logistics cycle.
We are committed to maintaining the highest environmental, quality and safety standards acquired by the industry. We ensure that this information is available, accessible and understandable to our customers.
Learn more about basic flexitank safe operation guidelines and how BeFlexi complies with the industrial requirements:

Containers Owners Association (COA) is the only global platform today to set standards for the flexitank industry. The COA's flexitank division was formed in order to bring the industry to a new level of efficiency, safety and security.
There are eight main areas of safety standardization, identified by COA - Recommended code of practice for flexitank. As a member Container Owners Association and its Technical Working Group (TWG), BeFlexi ensures that its materials, procedures and operations fully comply with COA safety requirements, as well as with additional criteria set up by shipping lines.