COA meeting insights: supporting the growth stage of flexitank industry
Flexitank industry shows double digit numbers of annual growth. The amount of loads has increased from 100'000 to almost 1'000'000 over the last 10 years. Still following the classic model of product life cycle flexitank is in its early growth stage with the potential to reach over 3'000'000 units till 2022.
Since flexitank is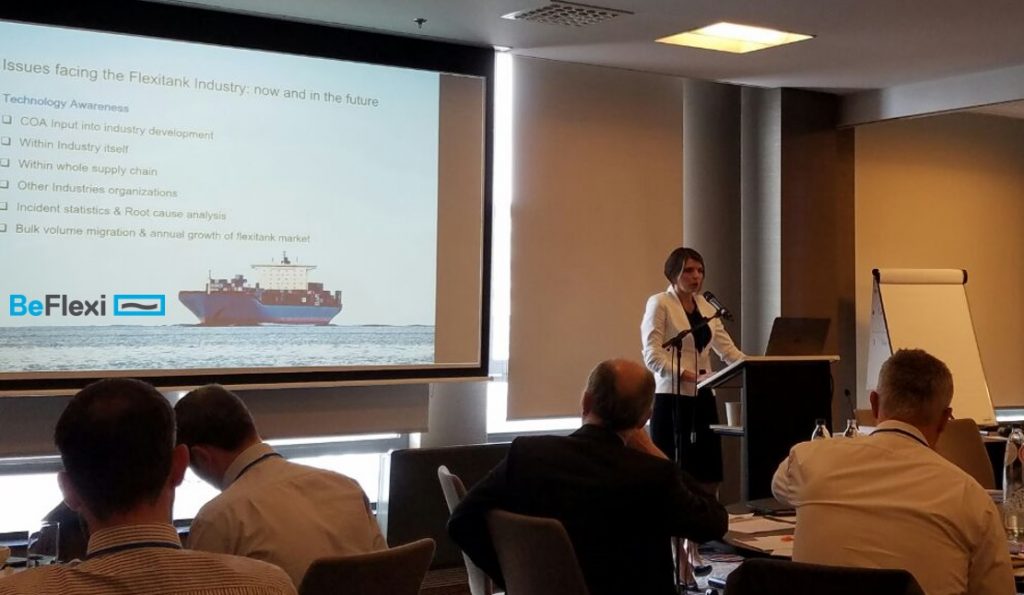 a multimodal logistics solution, the flexitank industry should be smoothly integrated in a complex network of the supply chain parties. This network includes manufacturers, traders, insurance and finance companies, inland transportation mode companies, temporary storage facilities, terminals and shipping lines, end users. All these parties benefit from creating unified industry standards and increasing the awareness of the technology.
Nowadays the only global platform for the flexitank industry is Container Owners Association (COA). The COA's flexitank division was formed in order to bring the industry to a new level of efficiency, safety and security. The latest COA flexitank meeting took place in Rotterdam 29 June 2016 and covered market trends as well as further guidance for the key functions of manufacture, testing and operation.
BeFlexi participated in this event as a visitor and speaker to present the future challenges flexitank operators might face.
Operations & Certifications
PAS:1008 2016
COA Code of Practice for Flexitanks is going to be reviewed taking into consideration PAS 1008:2016. Right now the technical group is working on new standard development.
Flexitank as equipment
Unlike tank containers, IBCs and drums flexitank is treated as a good, not packaging. This results in additional customs duties. Bringing flexitank as packaging will make the technology more competitive.
Operator certification
Flexitank is a secure technology if it is handled right. Negative perception of the flexitanks was caused by wrong installations – the major reason of leakages (98% of cases).[1] Customers will trust the technology more if flexitank handling is performed by certified operators only.
Market development & competition
Raising the technology awareness
Market players face the lack of flexitank technology awareness among the customers, terminals, shipping lines. As the result the technology is underestimated and flexitank operators lose potential profit. The common mission is to raise the awareness and create the better perception of flexitanks across the industries.
Flexitank is an alternative way to transport liquid cargo and it competes with bulk vessels, tank containers, IBCs and drums. Main players should let the customers know about flexitank technology benefits: cost reduction, risk minimization, positive environment impact.
Fair standards for fair competition
Common standards are important to ensure safety for customers and guarantee ease of operations for transportation companies. It prevents the market from low-quality products which damage the whole industry image.
Fair standards will create the healthy competition inside the industry. Competing with each other, companies strive to offer lower prices and higher level of services for the customers which have a positive impact on the technology development.
Following this plan, we are going to continue the series of articles about flexitank industry prospects. Next one will be dedicated to technology awareness and how it helps in getting new customers.
[1] 11th COA Flexitank Meeting, Hamburg, 16 June 2015