Flexitank Market to Reach $922.3 Million by 2022

Research done by Grand View Research Inc. estimates that the global flexitank market will reach USD 922.3 million by 2022. As bulk shippers endlessly look for new opportunities to lower costs they find bulk-packaging products such as the flexitank to be an incontestable alternative. Flexitanks are the most cost effective liquid packaging solution that has faced uninterrupted growth in popularity relative to its main competitors – ISO tanks and barrels. As the needs of customers and traders increases for solutions that are efficient, flexible, and portable, the global demand for flexitanks has amplified. Other advantages that have fuelled the growth are the affordability and easy setup of this single use bulk packaging.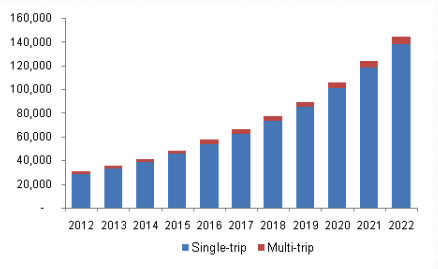 Single-trip flexitanks are the most common product within this industry segment and account for 94.8% of total market volume. While competitive products continue to have cleaning and repositioning costs that are frequently increasing, the removal of these costs by using single-trip flexitanks has been and will continue to be key-driving factors in the growth of use.
The global flexitank market demand was 800,000 units in 2014 and is expected to grow at an annual rate of 18.6% reaching a total of 3,135,791 units in 2022. Foodstuffs has been the leading application segment and accounts for 30% of the total market volume in 2014 but as the market develops chemical products are expected to be the fastest growing application with an estimated annual growth of 18.9% by 2022. Relatedly, in 2014, Asia Pacific led the flexitank market with almost 60% of shipments done within the area but as acceptance for the product continues to increase it is expected that flexitanks will penetrate and diversify over different markets.
The rising exports of oil from Southeast Asia and the flourishing global demand for wine are leading the growth in use of flexitanks. Similarly, the increasing capacity of flexitanks has resulted in further cost and operational efficiencies. The cost savings are indisputable; a flexitank containing 24,000 litres of wine will fit in a single 20ft container, while shipping wine in bottles would take up not one but two 40ft containers for the same volume. The cost-savings and reliability of flexitanks will be crucial considerations as different markets look for solutions to stay competitive.