Marketing is everywhere – second week at BeFlexi
My second week at BeFlexi was spent learning all about marketing with Mila Kozomara, the Marketing & Communications Manager.
We first spoke generally about what marketing entails and what her responsibilities are in the company. She told me about BeFlexi's customers and what activities and channels are used to promote the company's solutions in the market. One of the channels is social media and we spent a bit of time discussing its particular importance in promoting awareness of the brand. I found this part especially interesting because I was previously involved in managing the social media presence of Olympiakos Nicosia Football Team.
After the theory, we passed onto the practical stuff. The first task that she gave me was how we can improve the social media pages of the company – Twitter and LinkedIn. I did some research into these two social media networks to find other companies and people who are involved in the shipping and flexitank industry. The purpose of this was to develop the company's connections, but also to analyze how other companies manage their social media presence.
My second task was this time about the company's promotional videos. To be more specific, I was given a couple of video scripts and, watching previous videos, I created storyboards for these videos. To be honest, at first when I was given this task, I thought it would be very easy, but I quickly realized it was not as simple as I thought. Despite struggling at first to complete the task, I persevered and found this task very interesting.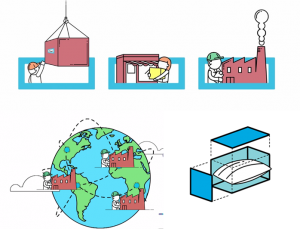 To complete the week in the marketing department, I had to prepare a presentation. The content of the presentation was to choose a social media channel that the company is not present on and to analyze why it is important for the company to acquire. I also had to write my recommendations on how the company can improve its social media presence.
Overall, it was another very interesting week. Aside from learning about what marketing at BeFlexi entails, I discovered you should never assume you know everything about something. Even if you have prior experience, there will always be an aspect you didn't know and you can always learn more interesting things. On top of this, never underestimate the work you have to do, as tasks can turn out to be more complex than on first glance. Both important lessons for a successful career.
This week, I'm with the Sales team, learning about their processes and sales channels.