A new dawn for the flexitank industry: more transparency, less risk
"We envision a world where standards and certifications are in place and ordering a flexitank is as routine a task as placing a booking with a shipping line or calling your hauler to ask for a truck the next day."
The logistics industry is facing challenges from a multitude of factors: fiercer competition, higher market demands, and greater transparency to name a few. This tumultuous background is juxtaposed with the flexitank industry, which has been growing year on year and is only set to continue on an upward trajectory. Many logistics companies are understandably now trying their hand at being flexitank market players. Yet, with the lack of regulatory standards, a lot is left up to interpretation. Therefore, we must look to create and implement standards that will regulate and safeguard the future of the flexitank industry.
Existing regulations such as the COA Code of Practice and the PAS 1008:2016 are mostly designed for manufacturers to increase the quality of flexitanks produced by them. There is also a guideline for shippers who use flexitanks; however, nothing is available at the moment that is focused on the industry as a whole. What we therefore get is a flexitank 'grey area', which not only casts a shadow on the whole industry, but also creates a greater risk to the cargo owner.
The primary risk is of course cargo loss, which cannot be understated. Despite the percentage of failed flexitank shipments today being very low, professionalism and quality checks at all stages of the flexitank service must nonetheless be in place.
For BeFlexi, there are three pillars of safe flexitank operations that can eradicate this 'grey area' and minimize risks: expertise, resources and experience.
The flexitank market is bottomless, but it is all our duties to ensure its outcome. We must all commit to work together to create standards so that we all operate within a safe, cost-effective and environmentally friendly framework.
Want to read the full green paper? Click here.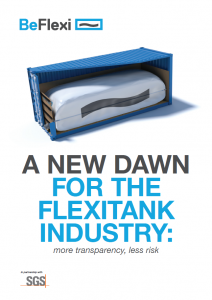 Want to be part of the future? Get in touch with us.