What allows flexitanks to outpace "standard" ways of non-hazardous liquid transportation?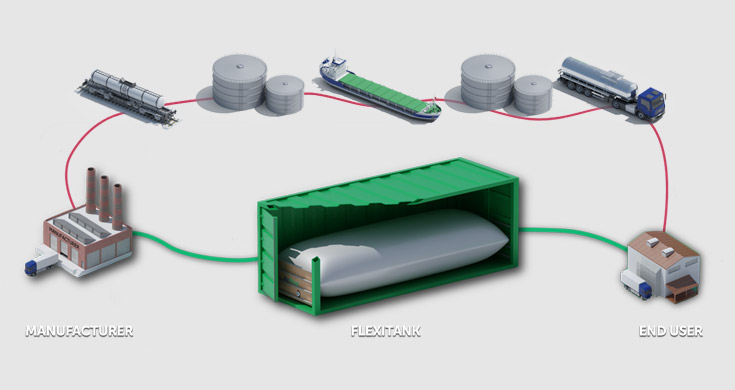 The flexitank is an alternative to standard transportation of non-hazardous liquid. It can be defined as a particular type of packaging – a flexible tank bag, designated to be appropriately installed in a 20ft container that is converted into a non-hazardous bulk liquid transportation unit. The typical capacity lies within the range of 10,000 to 24,000 liters, whereas the weight depends on the density of the commodity and weight restrictions at origin and destination.
Flexitanks have been on the market for a long time, and while their use can be traced back to the mid-1970s; they were very expensive
and marketed as reusable. In the early 1990s, they were replaced with those made of thermoplastic materials, which caused the prices to drop. However, there was no relevant expansion of the market until 2001 when shipments amounted to around 5,000 per year. Today, newer and cheaper flexitanks made from multiple layers of polyethylene have entered the market and are revolutionizing the way we transport liquids.
A wide range of products are carried in flexitanks, not limited to, edible oils,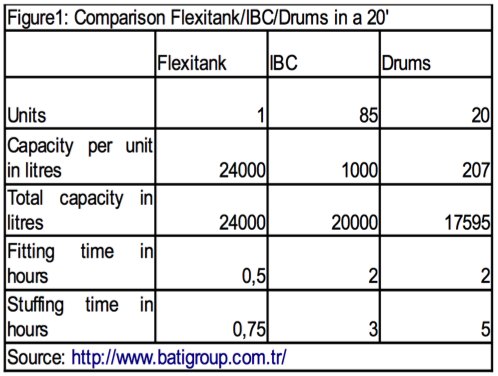 additives, water, waxes, detergents, latex, animal fat, wine, printing ink, fruit concentrates, sweeteners, and lubricants. What helps this packaging become a valid alternative to other ways of transportation is found in a long series of benefits. Companies have noticed that flexitanks are a more cost efficient solution than tank-containers, drums, IBCs, or ISO tanks. Loading and unloading times are reduced up to 90% and up to 30-40% more cargo can be shipped compared with IBCs and drums, this also involves importantly reduced man-hours as shown in Figure 1.
After installing the flexitank inside a container you must connect a connecting hose to it and then a pump for loading, at which point the container is closed and ready to be transported by road, sea or rail. Upon arriving at the destination the receiver can, with a pump, simply discharge the cargo rapidly and without losses. Last but not least, flexitanks are single use, there is no need to clean them at destination and they are 100 percent recyclable with collection services available globally. This also means that they are product dedicated with no risk of cross contamination.
The innovation in this market is moving towards a thoroughly safe and competitive transportation focused service. A shipper should, for instance, discuss with an operator the most suitable category of flexitank compatible with the product to be shipped. At present, it is also customary to have a standard practice checklist while inspecting the container before installing a flexibag to ensure the container is clean with no signs of damage and no floor imperfection.
The value in flexitanks can be easily appreciated when considering the growing and unsatisfied needs of both the market and the environment, including continuous lowering of transportation costs, as well as increasing requirements for efficient storage and portability of liquids.