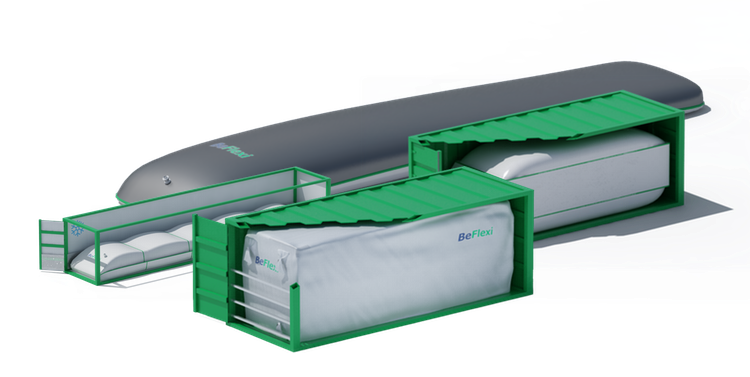 FASTER - CHEAPER - SAFE
Direct Supply From Seller to Buyer, Skipping Intermediaries and Infrastructure Operators

Competitive Shipping Freight Rates Even For Small Batch Purchases

Can Be Used With All Standard Transportation Methods

No Return Load Needed

Can Serve As Temporary Or Permanent Storage
Learn more about our flexitank products:



Flexitank is a safe, time tested and proven, cost-effective and secure technology to transport non-hazardous liquid and dry cargo.
Flexitank
Bulk liquid polyethylene container with volume from 10,000 up to 24,000 Lts, suitable for any non-hazardous liquids

Can be used with all standard transportation methods:

Sea shipment: 24/40 ft containers

Railway: standard 20 ft containers

Truck: individual deliveries

Acceptable temperature range from -20°C up to 80°C

Heating is available for high viscous liquid

Installation in refrigeration container for temperature sensitive cargo

Can serve as temporary or permanent storage

Approved foodstuff container

Door to Door Delivery

Single-use and disposable
From water to chemicals, transporting and storing liquids has traditionally been an expensive and logistically complex operation. Flexitanks offers manufacturers and traders a more agile and cost-effective approach to storing and shipping liquid products.
It boasts several advantages over steel tanks, including: being lighter, rustproof, foldable, quicker to use and easier to set up. Due to shipment size optimization it is also less capital intensive, meaning you have less cash tied up in the supply chain and greater liquidity available
Minimize your Expenses
Minimize your freight charges, pay just one way international freight cost

Transport more liquid in every container (flexitank takes up to 31% more liquid in each container versus IBC totes or drums)

20 ft. Container payload 15% higher than IBCs Container payload 44% higher than drums

Save money on loading and unloading. Typically flexitank is loaded in 45 minutes

Reduce your stock and order quantities that you want, exactly when you need them

Reduce your cleaning costs and 'go green' Flexitanks are single-use and disposable
Reduce the Risks
No risk of contamination (all flexitanks are food-grade and single-use packaging)

Reduce exposure to price fluctuations, don't need to stock, purchase quantity as needed

BeFlexi flexitank installations performed by SGS Team
Get Financial Benefits
Optimize your cash flow - less capital tied-up in the supply chain, allowing more free cash flow for additional purposes

Reduce the capital tight up

Receive more payloads within a shorter period of time