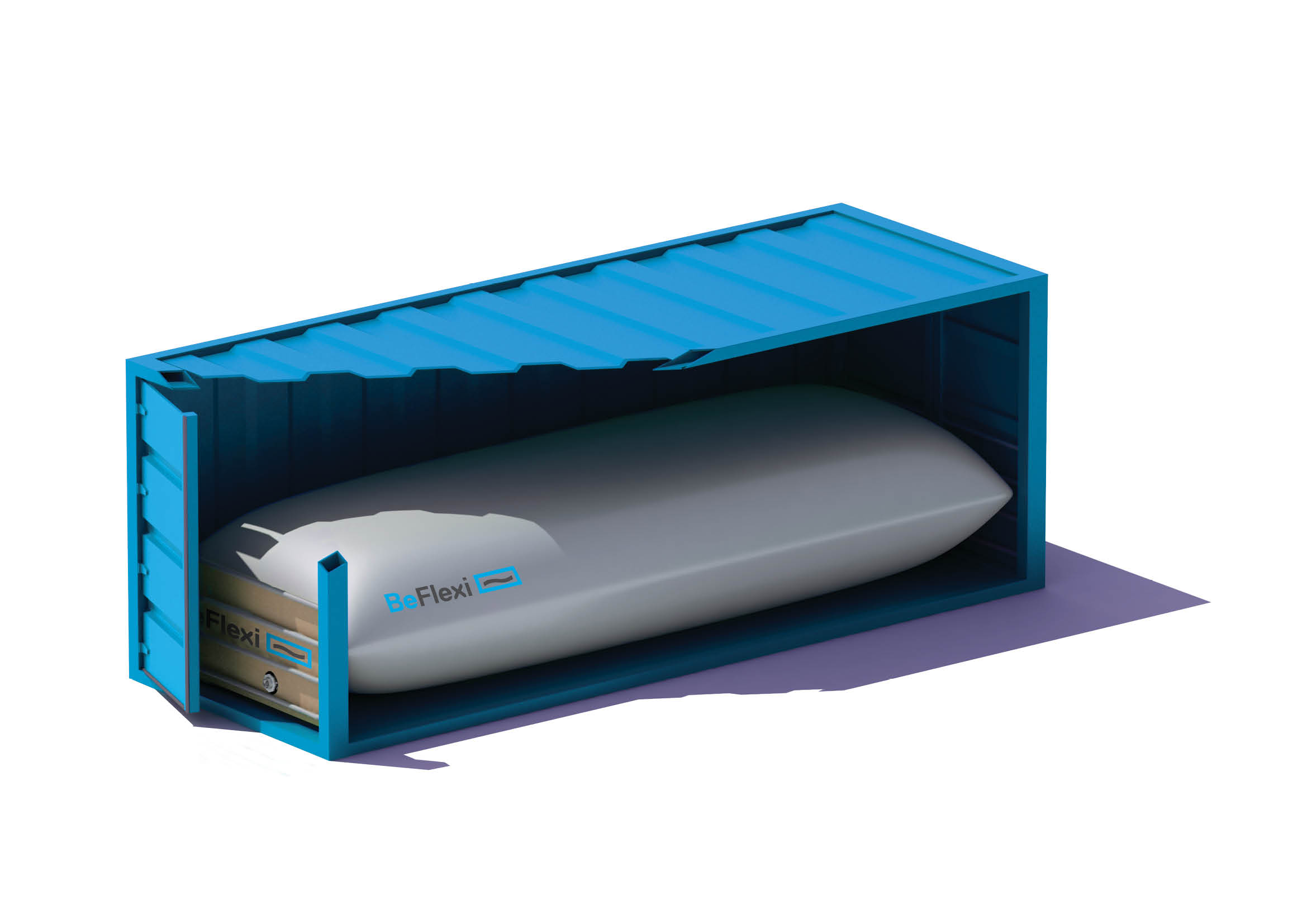 BeFlexi Standard Model is an absolute workhorse of our catalogue. Built around a high performance, applicable for hundreds of products, extremely efficient and robust, the model became an undisputed leader of choice, that handles up to 95% of our customers' orders.
Single use, installed in standard 20' sea container (TEUs)

Number of layers: 4+1

Loading/Discharge method: valve, top/bottom, butterfly type,
3" (75mm) Connection - Camlock

Loading temperature of cargo: -10 C to +60C

Delivery package: flexitank with accessories 96kg - 102 kg
Used for transportation and temporary storage of non-hazardous liquids, BeFlexi Standard Model is an asset for so many industries, as long as it can safely accommodate hundreds of products, including:
base oils,
lubricants,
waxes,
latex,
industrial liquids,
chemicals,
fertilizers
pharmaceuticals,
food grade products:
wine,
juices,
edible oils,
and more on the list.
GREAT VALUE FOR MONEY: EFFICIENCY, QUALITY, AND PROTECTION
High Efficiency
Flexitank vs Drums up to 40% cheaper
Flexitank vs. IBCs up to 30% cheaper
Flexitank vs. ISO-tank up to 20% cheaper
Easily calculated freight rates
No demurrage, scheduled delivery 
Cash Flow Optimization
Ship small batches, reach more customers
Certified Quality
US FDA regulations,
EC – European Certification,
HACCP – Hazard Analysis and Critical Control Points,
COA Standard Rail Impact Test,
Kosher and Halal Certification,
ISO 9001:2008, ISO: 2200, PAS1008:2014,
Major shipping lines approvals
HIGH VISCOSITY PRODUCTS ARE WELCOME
Heating Pad - Heating pad is a temperature regulating equipment that is typically installed on the floor of the container and operates during loading/discharge of high viscosity products, such as greases and waxes, high fructose corn syrups, palm and coconut oil to ensure easier flowing. BeFlexi heating pad models are based on steam or electric heating and vary in numbers of heating tubes, that determine the heating speed and maximum operating pressure.  There is also the option of having up to three pads installed in one container to achieve the desired temperature faster and they can be hung on the container walls. All heating pads are reusable. 
STANDARD MODEL MODIFICATIONS
The following bulkhead options are available to complete BeFlexi Standard Model:
(C) – Carton Bulkhead, a standard option that perfectly supports the most part of BeFlexi orders.
(P) - Plastic Bulkhead,  a waterproof bulkhead, that does not contain any organic materials and, therefore, does not require fumigation, where applicable. This is a choice for deliveries to a number of specific destinations where more strict sanitary requirements are in place (ex. Japan, South Korea). 
(M) - MDF Bulkhead, the strongest model, whose profile has the best endurance test results, that exceed the required standards.